Lidlips Lessons I Didn't Learn in Photo School: 100 Modern Insights on Photography (Paperback)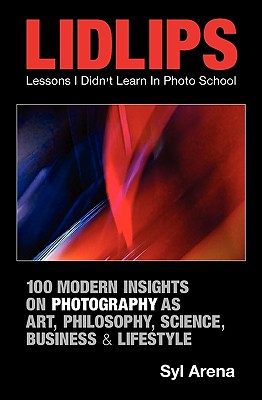 $18.69
Email or call for price.
Description
---
Lessons I Didn't Learn In Photo School opens up new territory for photographers. As our world becomes increasingly cluttered with cameras, there are fewer people who truly understand the nature of photography. Refreshingly, LIDLIPS presents thought-provoking insights on photography as art, philosophy, science, business, and lifestyle. This collection of 100 micro-essays discusses photography from angles you've likely never considered: relationships, persistence, creativity, leadership, confidence. In a unique voice, LIDLIPS proves that there is much more to crafting great photographs and being a photographer than knowing how to operate a camera. Author Syl Arena spent many years in photo school-eventually earning a BFA in fine art photography. Yet, the most important lessons he learned about being a photographer, he learned by being a father, husband, business owner, mentor, and artist. Photography, it turns out, has more to do with who you are as a person than with the brand of gear you use. For both amateurs and pros, LIDLIPS will expand your understanding of photography and inspire you to create images in completely new ways. Here's a sampling of a few LIDLIPS titles: #1 - If you can't be remarkable, be memorable. #17 - Learn to think of the viewfinder as optional. #22 - There is nothing more interesting to us than photographs of other people. #32 - Be open to your camera capturing realities you did not see. #46 - Creativity comes as a breeze before it comes as a gale. #56 - Hollywood is waiting to teach you how to light. #68 - Making yourself vulnerable is a sign of strength. #77 - Play photography like a team sport. #83 - Sometimes the best way to see something is to not look straight at it. #92 - The exotic is easy. The common is hard.