Coffee Self-Talk: 5 Minutes a Day to Start Living Your Magical Life (Paperback)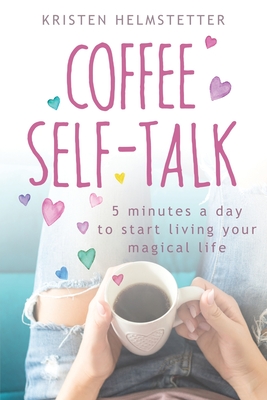 $18.19
Email or call for price
Description
---
Coffee Self-Talk is a powerful, life-changing routine that takes only 5 minutes a day. What if you could wake up every morning feeling more incredible than ever before... in 5 minutes? Living the most epic life Your mind mastered Your life on a path to shimmering happiness
Coffee Self-Talk transforms your life by boosting your self-esteem, filling you with happiness, and helping you attract the magical life you dream of living. And, very importantly, it creates feelings of wholeness and worthiness. All this, with your next cup of coffee.
Live your legendary life
Learn to love yourself, finally
Love, money, and health
Happiness, resilience, confidence
Manifest your dreams faster
Create a new magical you
Are you tired of living a dull, uninspired life?
Do you want to live a life of sparkling adventure and kicking butt, while reaching all of your goals?
What if you were excited to bounce out of bed, living with verve and gusto because you had purpose, unrelenting resilience, and targeted direction?
What if you were able to attain goals you never thought possible? Think about it... is there something you thought you could never do but always secretly wanted to?
Author Kristen Helmstetter shares how she used the techniques in this book to find the man of her dreams and travel the world as a romance author
And what if you had all this possibility from a simple program that took only 5 minutes a day to do? You can and you will
Coffee Self-Talk is the super easy, 5-minute program to rewire your brain and help you attain any goals, whether they're for glittering happiness, shining self-esteem, superior health, money, tranquil peace of mind, or unstoppable grit.
Includes Coffee Self-Talk programs to help with:
Living a magical life
Changing habits
Losing weight & getting fit and strong
Achieving health & longevity
Finding wealth, success & prosperity
Finding an awesome mate
Being an amazing parent (fertility, too )
Self-talk for kids
Or maybe you want to stop a bad habit, like over-eating, or to start good one, like meditation. From specific goals to peace and happiness, the sky is the limit. All with your next delicious cup of coffee. You can do it
Best yet? You'll love Coffee Self-Talk because it's not a boring "to-do." It's fun and effective
So if you want to wake up grinning from ear to ear, happier than you've ever been, and living an incredible life, then Coffee Self-Talk is for you.
If you have things you want to do with your life, but you don't know where to begin, then Coffee Self-Talk is the answer.
And if you have dreams you thought were too big, or you didn't know how to make them come true, then Coffee Self-Talk will help you.
The days of rolling out of bed feeling down and crappy are over. Now is the time to live your best, most magical life ever. No matter how old you are, or what your circumstances, Coffee Self-Talk will work for you
It's time to wake up and take control of your mind and your life.
Get Coffee Self-Talk today
Sit 'n Knit