The Secret of the Runes (Paperback)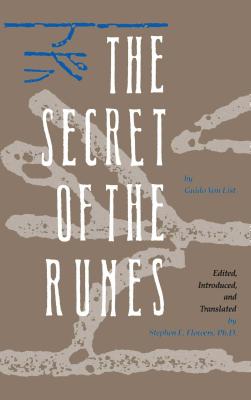 $14.95

Usually Ships in 3-6 Days
Description
---
The runes are said to have "revealed themselves" to von List, uncovering a complete cosmology and esoteric understanding of the primeval Teutonic/Aryan peoples, and becoming the cornerstone of his ideology. No other work so clearly and simply sets forth the full spectrum of von List's fantastic vision of a mystical philosophy based on Germanic principles.
About the Author
---
Renowned as an expert in Indo-European Germanic linguistics and mythology, Guido von List was the undisputed "high priest" of the Germanic occult renaissance of the early twentieth century.

Stephen Flowers studied Germanic and Celtic philology and religious history at the University of Texas at Austin and in Goettingen, West Germany. He received his Ph.D. in 1984 in Germanic Languages and Medieval Studies with a dissertation entitled Runes and Magic.
Praise For…
---
. . . serves as one of the major text on the meaning of the runes and their place in Teutonic cultures.
— New Dawn, May/June 2003

"If runes interest you at all, The Secret of the Runes is a historical and sociological document of great import. If you are a student of occult beliefs, you will recognize many of the newfangled new-age concepts we take for granted as vintage Armanen, perhaps very much to your dismay. Either way, this is an important book whose mysteries never fail to provoke thoughts and challenge beliefs."
— Thor the Barbarian, Nemeton, Jan 2006