Biblia de Referencia Thompson-RV 1960-Personal Size (Hardcover)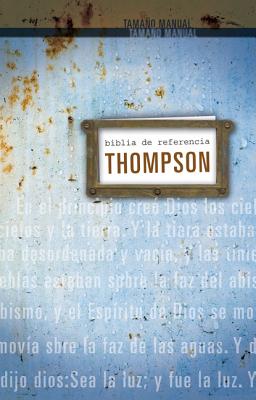 $39.99

Usually Ships in 3-6 Days
Description
---
Santa Biblia Reina Valera 1960 de referencia, tapa dura, con letra 8 puntos, mapas a todo color y con palabras de Cristo en rojo. Es pr cticamente una biblioteca de referencia b blica
La Biblia de Referencia Thompson, versi n Reina-Valera 1960, es sin lugar a dudas la Biblia m's completa que se puede encontrar.
Con m's de 7,000 nombres, lugares y temas y m's de 100,000 referencias analizadas y clasificadas de acuerdo con los conceptos. Las ayudas marginales est n "encadenadas" a ocho secciones al final de la Biblia, donde la profusi n de detalles es superior a cualquier otra Biblia publicada.
Est dise ada para:
Ayudar al lector a identificar miles de temas significativos, conceptos, ideas y personajes b blicos
Asistir en la investigaci n de referencias de temas a trav's de toda la Biblia
Usarse y entenderse f cilmente en un sistema completo
Esta es la Biblia ideal para el pastor, el maestro de Escuela Dominical, el laico y el estudiante. Palabras del Se or Jes's en Rojo.
Thompson Chain Reference Bible RVR 1960
In 1988 the Thompson Chain Reference Bible became the best-selling Spanish study Bible. It is the ideal Bible for pastors, Sunday school teachers, lay people, and serious students of God's Word, taking readers through a fascinating journey of discovery. It includes more than 7,000 names, places, and topics and more than 100,000 references are classified in eight sections for an in-depth, thorough study of God's Word. The marginal topics take the reader through the Bible verse by verse on a particular subject. The chain is systematic and easy to use. This is the most versatile study Bible on the market today. Words of Christ in Red.