Growing Perennials in Cold Climates: Revised and Updated Edition (Paperback)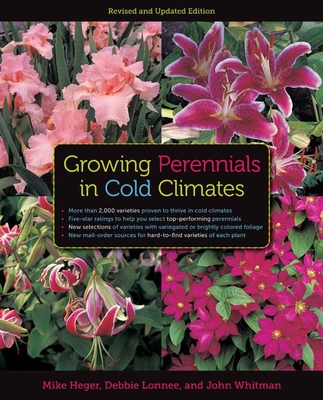 $39.95

Usually Ships in 3-6 Days
Description
---
Revised and updated, this all-in-one guide designed for northern-tier gardeners from coast to coast features:
• more than 2,000 varieties proven to thrive in cold climates• five-star ratings to help you choose top-performing perennials
• new selections of varieties with variegated or brightly colored foliage
• new mail-order sources for hard-to-find varieties of each plant
If you are a gardener and winter temperatures in your region can dip below –20 degrees, this is the one guide you need. Comprehensive and fully illustrated, Growing Perennials in Cold Climates is an excellent resource for selecting, siting, planting, and maintaining perennials that flourish in northern climates. This expanded edition identifies the fifty most popular perennial groups, offers in-depth information on wild and cultivated varieties best suited to cold climates, and rates more than 500 of the choicest plants. In addition to the plant data, this book includes a concise course in perennial gardening, from preparing a site and buying potted perennials to composting, watering, mulching, fertilizing, weeding, staking, deadheading, pruning, protecting plants in winter, companion planting, and dealing with disease and insect problems. Owning this guide is like having a professional gardener at your side every step of the way. Written to make even the most sophisticated aspects of growing perennials easy to understand, this book will be indispensable to novice and advanced gardeners alike.
About the Author
---
Mike Heger, co-owner of Ambergate Gardens in Chaska, Minnesota, is one of the leading experts on gardening in cold climates.Debbie Lonnee, a thirty-year veteran of the nursery industry, works for Bailey Nurseries in Newport, Minnesota. She is a prolific garden writer and lecturer and the horticultural editor for Northern Gardener. John Whitman is a garden writer and photographer. He is the coauthor of Growing Shrubs and Small Trees in Cold Climates and Growing Roses in Cold Climates, both forthcoming in new editions from University of Minnesota Press.
Praise For…
---
"Truly encyclopedic . . . I know of no other perennial book that gives you this much information and presents it in such an accessible format. This book is a classic." —Deborah Brown,
Minneapolis–St. Paul Star Tribune
"Owning this guide is kind of like having master gardener at your side every day." —The Phoenix Spirit