Women's Acts: Plays by Women Dramatists of Spain's Golden Age (Paperback)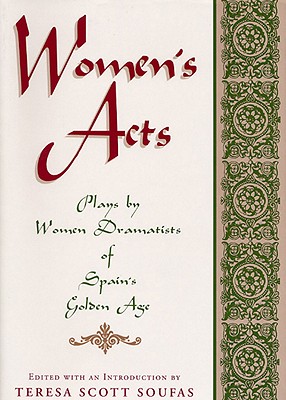 $42.00

Usually Ships in 3-6 Days
(This item cannot be returned.)
Description
---
Seventeenth-century Spain witnessed a rich flowering of dramatic activity that paralleled the Renaissance stage in other European countries. Yet this Golden Age traditionally has been represented in print almost entirely by male playwrights. With Women's Acts, Teresa Scott Soufas makes available eight plays by five long-neglected women dramatists: Angela de Azevedo, Ana Caro Mallen de Soto, Leonor de la Cueva y Silva, Feliciana Enriquez de Guzman, and Marla de Zayas y Sotomayor.
In an age when moralists denounced women's participation in the public arena, these women transgressed traditional gender ideology by creating works for the secular stage. Female characters in their plays portray the contradictions in their society's expectations for women. Ranging from an empress whose unmarried state distresses her subjects, to a woman who adopts male behavior patterns in courtship, and another who must dress like a man in order to be heard in court, female characters show how difficult it was for women to find fulfillment during a time when their opportunities were limited.
In her introduction, Soufas reviews the development of sixteenth- and seventeenth- century Spanish drama while focusing on the position of women during this period, the significance of these plays, and the issues the playwrights address. Each dramatist's section opens with an overview of the author's life and professional activity, a synopsis of her work(s), and a selected bibliography.
In a modernized edition that is consistent, readable, and suitable for use by both students and scholars, the plays in Women's Acts will at last earn their rightful place in the canon of Renaissance drama.
About the Author
---
Teresa Scott Soufas is professor of Spanish and chair of the department of Spanish and Portuguese at Tulane University.
Sit 'n Knit