A Dog Year: Twelve Months, Four Dogs, and Me (Paperback)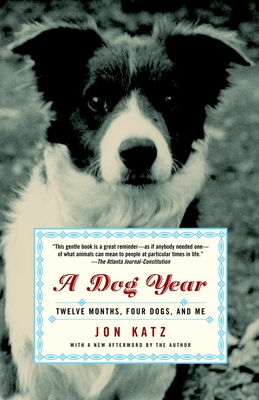 Description
---
"Change loves me, defines and stalks me like a laser-guided smart bomb. It comes at me in all forms, suddenly and with enormous impact, from making shifts in work to having and raising a kid to buying a cabin on a distant mountaintop. Sometimes, change comes on four legs." 

In his popular and widely praised Running to the Mountain, Jon Katz wrote of the strength and support he found in the massive forms of his two yellow Labrador retrievers, Julius and Stanley. When the Labs were six and seven, a breeder who'd read his book contacted Katz to say she had a dog that was meant for him—a two-year-old border collie named Devon, well bred but high-strung and homeless. Katz already had a full canine complement, but instinct overruled reason, and soon thereafter he brought Devon home.

A Dog Year: Twelve Months, Four Dogs, and Me is the story of how Devon and Jon—and Julius and Stanley—came to terms with each other. It shows how a man discovered a lot about himself through one dog (and then another) whose temperament seemed as different from his own as day is from night. It is a story of trust and understanding, of life and death, of continuity and change. It is by turns insightful, hilarious, and deeply moving.
About the Author
---
Jon Katz has written eleven books, six novels and five works of nonfiction. A two-time finalist for the National Magazine Award, he has written for The New York Times, GQ, The Wall Street Journal, Rolling Stone, and Wired. He currently writes about technology, media, and culture for the Web site Slashdot.org, and is a contributing editor to public radio's Marketplace and to Bark magazine. A member of the Association of Pet Dog Trainers, he lives in northern New Jersey with his wife, Paula Span, a reporter for The Washington Post, and their college-student daughter, Emma Span. Jon Katz can be e-mailed at jonkatz3@comcast.net or jonkatz@slashdot.org.
Praise For…
---
"This gentle book is a great reminder—as if anybody needed one—of what animals can mean to people at particular times in life." —The Atlanta Journal-Constitution

"Moving, funny . . . This is a loveable mutt of a book." —Chicago Tribune

"Part cautionary tale, part love story, A Dog Year reminds us that adopting a pet is a massive responsibility but one that rewards the owner with a richer, more meaningful life." —Los Angeles Times