Not a Novel: A Memoir in Pieces (Paperback)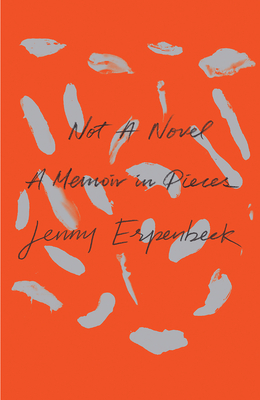 Description
---
A collection of highly personal and poetic essays about life, literature, and politics by the renowned German writer, Jenny Erpenbeck
Jenny Erpenbeck's highly acclaimed novel
Go, Went, Gone
was a New York Times notable book and launched one of Germany's most admired writers into the American spotlight. In the New Yorker, James Wood wrote: "When Erpenbeck wins the Nobel Prize in a few years, I suspect that this novel will be cited."
        On the heels of this literary breakthrough comes
, a book of personal, profound, often humorous meditations and reflections. Erpenbeck writes, "With this collection of texts, I am looking back for the first time at many years of my life, at the thoughts that filled my life from day to day."
        Starting with her childhood days in East Berlin ("I start with my life as a schoolgirl … my own conscious life begins at the same time as the socialist life of Leipziger Strasse"),
Not a Novel
provides a glimpse of growing up in the GDR and of what it was like to be twenty-two when the wall collapsed; it takes us through Erpenbeck's early adult years, working in a bakery after immersing herself in the worlds of music, theater, and opera, and ultimately discovering her path as a writer.
        There are lively essays about her literary influences (Thomas Bernhard, the Brothers Grimm, Kafka, and Thomas Mann), unforgettable reflections on the forces at work in her novels (including history, silence, and time), and scathing commentaries on the dire situation of America and Europe today. "Why do we still hear laments for the Germans who died attempting to flee over the wall, but almost none for the countless refugees who have drowned in the Mediterranean in recent years, turning the sea into a giant grave?"
        With deep insight and warm intelligence, Jenny Erpenbeck provides us with a collection of unforgettable essays that take us into the heart and mind of "one of the finest and most exciting writers alive" (Michel Faber).
About the Author
---
Jenny Erpenbeck was born in East Berlin in 1967. New Directions publishes her books The Old Child & Other Stories, The Book of Words, and Visitation, which NPR called "a story of the century as seen by the objects we've known and lost along the way."

In 2010 Kurt Beals was a finalist for the Best Translated Book Award for Anja Utler's engulf–enkindle, and in 2012 he won the first ever German Book Office Translation Prize. His translation of Regina Ullmann's The Country Road was published by New Directions in 2015.
Praise For…
---
Erpenbeck has emerged as one of the most original voices in contemporary European letters. Not a Novel is not just autobiographical. There are fascinating reflections on German literature — Grimms' Fairy Tales, Hans Fallada, Thomas Mann and Walter Kempowski's war novel All for Nothing — as well as exquisite descriptions of the writing process.

— Guy Chazan - Financial Times

An ideal introduction to the life and work of an exceptional artist.
— Kirkus

This collection of essays, memoirs and critical pieces forms an intellectual biography of Europe's most history-obsessed writer. Beginning with her childhood in East Berlin in the early '60s and '70s, the book moves in concentric circles, from the intimate and understatedly moving to the moment History collides with her life. A powerful voice singing the past into the present's melody.
— John Freeman - Lithub

To read Erpenbeck's musings on the majesty of folk tales or on life in the shadow of the Stasi is to begin to understand the forces that propelled her to become the deft, fearless author she is today.
— New Statesman

Fearless, playful, incisive. Erpenbeck is unique
— Rachel Seiffert

These essays, lectures and musings from the ever-elegant German writer Jenny Erpenbeck cover life, art and society. Jumbled together are thoughts on language, history and freedom, a moving piece – in the shape of an inventory – on her mother's death, and finally, on Germany's treatment of refugees. Clear-eyed and perceptive, Erpenbeck's writing packs an emotive punch.
— Tatler

As this collection makes clear, hers is a life (and writing-life) well worth examining.
— The Complete Review

Erpenbeck's anger is palpable and this collection reveals both her creative process and the injustices that drive her to write.
— Lucy Popescu - The Guardian

In this attentive prose, in her desire to map stories that are suppressed and rhythms of the heart that keep being forgotten, Erpenbeck is one of the most vital writers working today.
— Natasha Walter - The Guardian

Wonderful, elegant, and exhilarating—ferocious as well as virtuosic.
— Deborah Eisenberg - The New York Review of Books

Erpenbeck is a virtuoso whose eye for detail depends entirely on a refusal to write what's easy or straightforward. It's a perspective conditioned by losing one identity and watching an entire country disappear in the name of freedom.
— Lauren LeBlanc - The Observer

The texts collected here come from many eras and many moments and seem to fall around the reader like bits of glass....There is something terrifying but liberating about seeing a person construct herself and her history in a way that feels so opposite to everything we are told.
— Hasan Altaf - The Paris Review

The impact is of a master at work—Erpenbeck ought to be considered for the Nobel.
— John Domini - The Washington Post

Not A Novel is a collection of the sort of pieces – some profound, others incidental – that naturally arise as part of a professional writing career. Many are concerned with growing up in the GDR and the experience of having the society that formed your worldview disappear.... At a time when former East German states vote in increasing numbers for the right-wing party Alternativ für Deutschland, Erpenbeck's voice is all the more important for its ability to draw attention to a parallel world, one that sought to call a new future into being, rather than harking back to a darker past.

— Peter Frederick Matthews - Times Literary Supplement

One of the pleasures of reading Not a Novel is just that—it's not a novel. Each piece stands on its own and is dense and lucid, demanding pause and reflection....Her words stay with you.

— World Literature Today

Erpenbeck's writing is a lure that leads us—off-center as into a vortex—to the most haunted and haunting territory.
— Anne Michaels

The most profound, intelligent, humane, and important writer of our times. Forget the nombrilistes writing about themselves who have taken up so much of the conversational space. Jenny Erpenbeck is where it is all happening. She watches, notes, records, and interprets the world, not just herself in it. This is real literature: alive, vital, necessary, witty, beautiful, transformative.
— Neel Mukherjee

Her restrained, unvarnished prose is overwhelming.
— Nicole Krauss