How to Care for Aging Parents, 3rd Edition: A One-Stop Resource for All Your Medical, Financial, Housing, and Emotional Issues (Paperback)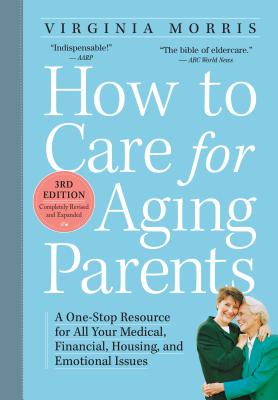 Description
---
The book that answers all the questions you hoped you'd never have to ask.

Hailed as "an excellent resource" by the Family Caregiver Alliance, How to Care for Aging Parents is an indispensable source of information and support.

Now completely revised and updated, this compassionate, comprehensive caregiver's bible tackles all the touch subjects, from how to avoid becoming your parent's "parent," to understanding what happens to the body in old age, to getting help finding, and paying for, a nursing home.

When love is not enough—and regrettably, it never is—this is the essential guide.

Help for every difficult issue:
Knowing when to intervene
Coping with dementia
Caring for the caregiver
The question of driving
Paying for long-term care
Sharing the care with siblings
Caregiving from a distance
Home care vs. a nursing home
The hospice option
About the Author
---
An award-winning journalist, Virginia Morris has devoted her career to researching and writing about health care, medical research and related social and political issues for the last 25 years. She is the author of How to Care for Aging Parents, which won the Books for a Better Life Award and instantly became the best-selling book on the subject when it was first released in 1996. The most recent updated and expanded edition was published in 2014. She is also the author of Talking About Death, which came out in paperback in 2004. Virginia has been featured on Oprah, The Today Show, Good Morning America, The CBS Morning Show, Primetime, NPR, CNN, and a host of other national media. She also appeared before Congress, testifying before the bicameral Joint Economic Committee in 2007. She now lectures around the country on both subjects. She lives with her husband and two children in the New York area.
Praise For…
---
"A compassionate guide of encyclopedic proportion."
—The Washington Post
"Indispensable!"
— AARP
"This guide, aimed at the "Sandwich Generation," provides a road map to assist adult children in caring for their aging parents. Combining personal experience with expertise in healthcare and social and political issues, Morris has produced a thoroughly researched, well-organized, and comprehensive manual. Chapters follow in logical progression, yet they can stand alone and be read on an "as-needed" basis. The topics covered include the concrete, practical areas such as home care, finances, nursing homes/hospitals, legal issues, and medical/safety concerns as well as the psychosocial areas of handling emotions, dealing with death and dying, sibling conflicts, and spiritual needs. In her discussions, Morris adds useful details such as a suggested list of things to pack for the hospital. Support for the caregiver as well as to the elderly person is covered. Sprinkled throughout the text are agencies, phone numbers, and other reference information."
"A must-read … [Morris] thoroughly addresses the subject, covering most topics imaginable from standards such as exercise and healthy diet to uncomfortable ones such as STDs, Alzheimer's, and delusions and hallucinations.… Her frank approach manages to be both compassionate and direct making the most awkward or devastating topics manageable."
—Publishers Weekly, starred review