The Know-Nonsense Guide to Grammar: An Awesomely Fun Guide to the Way We Use Words! (Know Nonsense Series) (Paperback)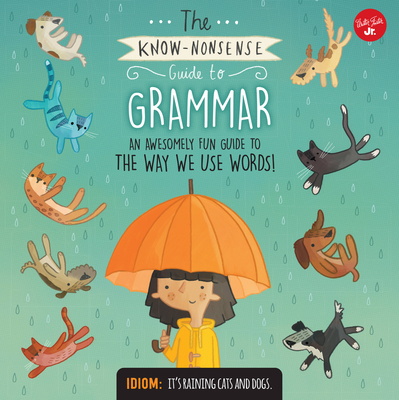 $9.99

Usually Ships in 3-6 Days
Description
---
The Know-Nonsense Guide to Grammar is an unforgettably funny grammar and literary device reference for kids featuring easy-to-grasp explanations and colorful illustrations.
Fuzzy on punctuation? Bamboozled by adverbs? Perplexed by the difference between idioms and irony? That's totally understandable! But thinking you have to muddle your way through this confusion on your own? That's utter nonsense!
This
Know-Nonsense Guide to Grammar
is packed with
simple definitions
(commas are used to separate words in a sentence and help readers know when to pause),
memorable examples
(The vampire loves cooking, his teddy bear, and his goldfish.), and
funny illustrations
that make the rules of language easy to understand.
Turn the pages to
learn:
Parts of speech (nouns, verbs, adjectives, adverbs, prepositions, pronouns, and conjunctions)
The basic rules of grammar (capitalization, collective nouns, sequence of adjectives, and punctuation)
Literary devices that make good writers great (alliteration, analogies, similes, hyperbole, puns, irony, and much more)
Along the way, things may get a little loopy, but have no fear!
While you're laughing, you'll also be learning.
With a little practice, you'll be a regular wordsmith!
Also available from the Know Nonsense Series:
The Know-Nonsense Guide to Money
About the Author
---
Heidi Fiedler has written and edited more than 300 books for clients ranging from Target to Barnes & Noble. As a former editor for Teacher Created Materials, she has a wealth of editorial and writing experience, including more than 180 nonfiction books in partnership with Time for Kids; 90 picture books, chapter books, and middle-grade novels; plus a wide variety of activity books and arts and crafts books.
Brendan Kearney is a children's book illustrator based in St. Albans. His unique and quirky portfolio includes work for some of the UK's largest publishers.
Praise For…
---
Gr 3-6 –An engaging way to introduce and reinforce basic grammar concepts for elementary readers. The guide is broken down into three main areas (parts of speech, grammar, and literary devices). Each page focuses on one concept and provides a clear definition along with an example. The adjacent page contains a whimsical, inviting illustration. The book makes grammar accessible for children by associating images with definitions. In addition, the text offers an understanding of the concepts that goes beyond simple definitions. VERDICT This guide is valuable for elementary classrooms and home collections as both a reference and a learning tool.—
April Sanders, Spring Hill College, Mobile, AL
,
School Library Journal
In the "Know-Nonsense" Guide to Honing Writing Skills round-up:

Heidi Fiedler's The Know-Nonsense Guide to Grammar: An Awesomely Fun Guide to the Way We Use Words! (Walter Foster, Apr. 2017; Gr 3-6) is designed for students who may need just an extra push when it comes to grammar ("This book tackles key concepts that are introduced in school, but might be confusing the first time around…."). Three sections focus on different parts of speech, general grammar rules, and common literary devices.
The text, in conjunction with Brendan Kearney's soft and rounded cartoon illustrations, uses humor to make potentially complex concepts comprehensible. For instance, the spread on alliteration features a "happy hedgehog" that "has a huge house" and the entry for adjectives stars a band of brave pirates. With large font, consistent layouts, and friendly artwork, this is an accessible resource for kids who are looking to build on or strengthen their grammar skills, either at home or in the classroom.
—
Della Farrell
,
School Library Journal
Sit 'n Knit