I Love My Kitten: A Pop-Up Book About the Lives of Cute Kittens (Board book)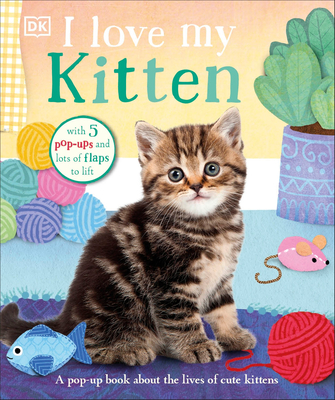 $12.99

Usually Ships in 3-6 Days
Description
---
In this charming children's book filled with beautiful illustrations and fun facts, little ones get to meet gorgeous pop-up kittens and lift flaps to discover the cutest surprises.

With five pop-up kitties to meet and lots more kittens to find along the way, little cat lovers can play peekaboo while also learning what kittens like to do and how to take care of them.

This engaging board book for 3- to 5-year-old children includes:

   • 5 cool pop-ups and 11 flaps featuring fun facts and 15 photographs feature 18 real kittens, making learning dynamic and interactive
   • Interesting kitten and cat facts, like why kittens use scratching posts and suck on wool, introduce young children to these popular pets, and inform them about the basics of kitten care
   • Kitten photographs help kids to relate what they see to the real world, and combined with bright, vibrant illustrations, bring kitten scenes to life
   • Engaging, easy-to-read text and simple facts are perfect for reading together and out loud, which has many early learning benefits including building vocabulary and language development

Learning about pets and pet care, such as how often kittens eat and how to help them groom teaches children important values, including compassion and responsibility. This stunning kitten book is the perfect introduction for young children getting their first pet. 

Meet five of the cutest kittens and their furry friends, and find out what makes each of them so special. Whether out in the garden or playing indoors, these little kittens get up to plenty of mischief. Join them as they chase wool, climb up shelves, gobble food and eventually snuggle up in bed. 

Kids will love turning the sturdy pages and the simple, playful text means they can read along too! There's more fun to be had with this adorable children's book series from DK Books. Try I Love My Home, I Love My Dinosaur or I Love My Puppy next!
About the Author
---
We believe in the power of discovery. That's why we create books for everyone that explore ideas and nurture curiosity about the world we live in.
 
From first words to the Big Bang, from the wonders of nature to city adventures, you will find expert knowledge, hours of fun and endless inspiration in the pages of our books. 

https://www.dk.com/
Sit 'n Knit