Life's Dominion: An Argument About Abortion, Euthanasia, and Individual Freedom (Paperback)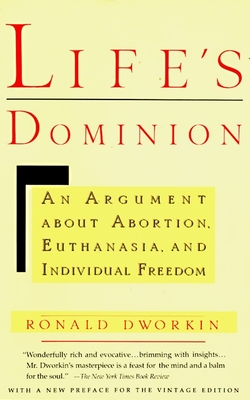 $17.00
Email or call for price
Description
---
Internationally renowned lawyer and philosopher Ronald Dworkin addresses the crucially related acts of abortion and euthanasia in a brilliantly original book that examines their meaning in a nation that prizes both life and individual liberty. From Roe v. Wade to the legal battle over the death of Nancy Cruzan, no issues have opened greater rifts in American society than those of abortion and euthanasia. 
At the heart of Life's Dominion is Dworkin's inquest into why abortion and euthanasia provoke such controversy. Do these acts violate some fundamental "right to life"? Or are the objections against them based on the belief that human life is sacred? Combining incisive moral reasoning and close readings of indicidual court decisions with a majestic interpretation of the U.S. Constitution itself, Dworkin gives us a work that is absolutely essential for anyone who cares about the legal status of human life.
About the Author
---
Ronald Dworkin was Professor of Law at New York University, and University Professor of Jurisprudence at Oxford University. He was a widely respected philosopher of law and the author of a number of influential books, including Taking Rights Seriously, A Matter of Principle, Law's Empire, and Life's Dominion, still used in U.S. law schools. Dworkin died in 2013.
Praise For…
---
"A wonderfully rich and evocative investigation into the choices that confront us at the edges of life and death."--Lawrence Tribe, The New York Times Book Review

"Dworkin has made a miracle, so meticulous and rich a reformulation of how we think about the borders between life and death that it illuminates the very nature of how we live our lives."--Joan Didion.