Sweet Forme: Shake-Speare's Perfect Sonnets (Paperback)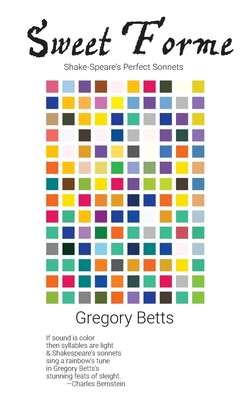 $16.50

Usually Ships in 3-6 Days
(This item cannot be returned.)
Description
---
Shakespeare built his famous sonnets by a unique sound pattern of rhymes in the final syllable, the tenth column, of each line. What was he doing in the rest of the sonnet?
Sweet Forme: Shake-Speare's Perfect Sonnets is part of a broader BardCode project that maps out the full sound pattern of rhymes in all ten columns across all of Shakespeare's sonnets. Colour coding these sound-codes results in a visual text rich with the sonic patterns of the poems. Suddenly, for the first time, you can see the BardCode.
Sweet Forme presents seven visualizations of this hidden BardCode in this second edition full-colour, softcover version. Following the Bard's own scheme, Sweet Forme reveals the complete rhymes for the very first time. Compiled and with an introduction by Gregory Betts.
From the Introduction:
What does the dominance of maths, however unseen, mean for art, culture, self, perspective, and time? Long before it became dominant, there was Shakespeare using the grid as medium to delve into these same questions. In 1609, he published a series of 154 sonnets called Shake-Speare's Sonnets. Now, from our vantage in the grid, we can recognize the sonnet as a poetics of math, the embodiment of the desire to define arbitrary frames and work within such limitations to reveal the buried structure of the world.
These are poems that hold poetry up as vaccine to omnipresent ailment and decay. I invite you now, dear reader, to consider these timeless monuments to abstraction, the only perfect sonnets in Shakespeare's oeuvre, as anticipations and revelations of the meaning of the grid.
Sweet Forme collects these perfect sonnets in this new full-colour softcover second edition.