The Best American Essays of the Century (Hardcover)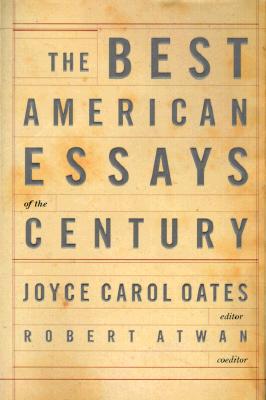 $30.00
Special Order - Inquire at Store
Description
---
This singular collection is nothing less than a political, spiritual, and intensely personal record of America's tumultuous modern age by our foremost critics, commentators, activists, and artists. In her introduction to this volume, Joyce Carol Oates describes her project as "a search for the expression of personal experience within the historical, the individual talent within the tradition." Along with Robert Atwan, who has overseen the acclaimed BEST AMERICAN ESSAYS series since its inception in 1986, Oates has chosen a list of works that are both intimate and important, essays that take on subjects of profound and universal significance while retaining the power and spirit of a personal address.
This collection honors some of the twentieth century's best-known and best-loved writers on a breathtaking variety of topics. In a journalistic mode, Ernest Hemingway covers the bullfights in Pamplona, H. L. Mencken reacts to the Scopes trial, and Michael Herr dodges bullets in a helicopter over Vietnam. Nowhere is the intersection of our personal and political histories more meaningful than when the subject is America's enduring legacy of racial strife, as shown by Richard Wright's "The Ethics of Living Jim Crow," James Baldwin's "Notes of a Native Son," Zora Neale Hurston's "How It Feels to Be Colored Me," and others. The wonders and horrors of science, nature, and the cosmos are explored with eloquence, bravery, and beauty when Lewis Thomas writes about "The Lives of a Cell," Rachel Carson mulls "The Marginal World," and Stephen Jay Gould preaches evolution and baseball in "The Creation Myths of Cooperstown." Taken together, these essays fit, in the words of Joyce Carol Oates, "into a kind of mobile mosaic suggest ing] where we've come from, and who we are, and where we are going."
Mark Twain - W.E.B. Du Bois - Henry Adams - John Muir - William James - Randolph Bourne - John Jay Chapman - Jane Addams - T. S. Eliot - Ernest Hemingway - H. L. Mencken - Zora Neale Hurston - Edmund Wilson - Gertrude Stein - F. Scott Fitzgerald - James Thurber - Richard Wright - James Agee - Robert Frost - E. B. White - S. J. Perelman - Langston Hughes - Katherine Anne Porter - Mary McCarthy - Rachel Carson - James Baldwin - Loren Eiseley - Eudora Welty - Donald Hall - Martin Luther King, Jr. - Tom Wolfe - Susan Sontag - Vladimir Nabokov - N. Scott Momaday - Elizabeth Hardwick - Michael Herr - Maya Angelou - Lewis Thomas - John McPhee - William H. Gass - Maxine Hong Kingston - Alice Walker - Adrienne Rich - Joan Didion - Richard Rodriguez - Gretel Ehrlich - Annie Dillard - Cynthia Ozick - William Manchester - Edward Hoagland - Stephen Jay Gould - Gerald Early - John Updike - Joyce Carol Oates - Saul Bellow.
Praise For…
---
". . . Oates has assembled a provocative collection of masterpieces reflecting both the fragmentation and surprising cohesiveness of various American identities." Publishers Weekly, Starred