Yasmina Reza: Plays 1: Art, Life x 3, The Unexpected Man, Conversations After a Burial (Paperback)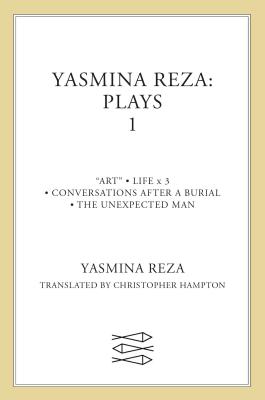 $22.00

Usually Ships in 3-6 Days
(This item cannot be returned.)
Description
---
Now in one volume, the works of "the most successful international playwright of her generation" (Vogue).

Yasmina Reza's plays reflect the razor sharp wit, social commentary, and impeccable comedic timing that have earned the praise of critics throughout the world, none more so than the Tony Award-winning Art, an eccentric and clever play of ideas that took the American theater community by storm. In this sly critique of contemporary relationships, Reza skillfully picks apart the friendship of three men via a bowl of olives and a white-on-white painting. Now translated into more than 30 languages, Art continues to be performed worldwide, even as Reza's other plays have garnered similar acclaim. Life x 3, Reza's most recent offering, again highlights her satirical wit as two couples face off in three different versions of the dinner from hell. Praised as "compact, cool and clever" by Christopher Isherwood of Variety, Reza uses the acidic exchanges of her characters to illuminate their inner desire for love and acceptance. Also included in this edition are two earlier plays, The Unexpected Man and Conversations After a Burial. Each elucidates the startling difference between public and private life, be it in the confines of a train compartment or a country estate in the aftermath of a loved one's passing.
About the Author
---
Yasmina Reza, born in Paris in 1959, is an acclaimed playwright, screenwriter, and novelist. Her first play, Conversations Après un Enterrement (Conversations After a Burial) won her the 1987 Molière Award for Best Author along with a Johnson Foundation Award and a SACD New Talent Award. Her other works for the theater include Art and The Unexpected Man, among others. She lives in Paris.
Christopher Hampton is a highly successful British dramatist. His work for the Royal Court included Total Eclipse (1968) and The Philanthropist (1970). An accomplished linguist, his adaptation include Uncle Vany (1970), Hedda Gabler (1970) and A Doll's House (1971). His best known recent work has been his adaptaion of Les Liaisons Dangereuses by Laclos.
Praise For…
---
"One of the most musical and psychologically acute playwrights." —Financial Times
Sit 'n Knit