You Should Have Left: A Novel (Paperback)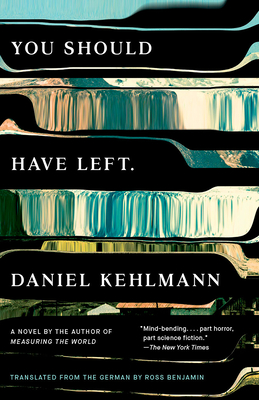 Description
---
Now a Major Motion Picture

From the internationally bestselling author of Measuring the World and F, an eerie and supernatural tale of a writer's emotional collapse

A screenwriter, his wife, and their four-year old daughter rent a house in the mountains of Germany, but something isn't right. As he toils on a sequel to his most successful movie, the screenwriter notices that rooms aren't where he remembers them—and finds in his notebook words that are not his own.
About the Author
---
Daniel Kehlmann was born in Munich in 1975 and lives in Berlin and New York. His works have won the Candide Prize, the Doderer Prize, the Kleist Prize, the Welt Literature Prize, and the Thomas Mann Prize. Measuring the World was translated into more than forty languages and is one of the greatest successes in postwar German literature.
Praise For…
---
"Mind-bending. . . . Part horror, part science fiction." —The New York Times Book Review

"A book that should carry a health warning: read alone at your own risk." —Monocle
 
"Riveting." —Entertainment Weekly

"Clever, exquisitely terrifying. . . . [Kehlmann] makes entertainment out of metaphysics." —Harper's Magazine
 
"A masterclass in economical storytelling, meticulously attentive prose and imaginative agility. Kehlmann creates narrative complexity with the deftest of strokes." —The Literary Review

"[A] master novelist. . . . [Kehlmann] has a rare ability to make complex ideas the stuff of warm, light fiction." —The Times Literary Supplement
 
"A beautifully crafted exercise in terror. . . . [Kehlmann] creates a sense of existential dread that transcends the typical ghost story. . . . A book to keep you up at night." —Kirkus Reviews (starred review)
 
"[Kehlmann] is in total control. . . . He and his translator Ross Benjamin squeeze an enormous amount of readerly anxiety out of very few carefully placed words. . . . This is a story about a marriage in trouble, and about a seemingly impossible desire to protect a young child from threatening reality, but also about something else, something unavoidable and powerful but terrifyingly vague. . . . This little book . . . has a funny way with dimensions—its effects are amplified, and they linger." —The Spectator
 
"A masterful experiment about the limits of literary realism." —The Brooklyn Rail
 
"Wry, eerie and increasingly terrifying. . . . Kehlmann is a formidable observer with a flair for articulating dysfunctional behaviour. . . . An entertaining Everyman's postmodernist Gothic guaranteed to unsettle." —The Irish Times
 
"A quick, fun, breathless read. It's inventive and scary—and a delightful take on the writing life." —The Huffington Post
 
"Chilling. . . . Kehlmann makes deft use of horror staples and offers commentary on the distinction between art and life." —Publishers Weekly
 
"A taut and scary novella." —The Sunday Times (London)