A Natural History of the Sonoran Desert (Paperback)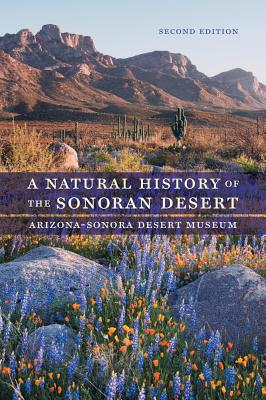 $39.95
Usually Ships in 3-6 Days
Description
---
The landscape of the Sonoran Desert Region varies dramatically from parched desert lowlands to semiarid tropical forests and frigid subalpine meadows. Covering southeasternmost California, much of southern and central Arizona, most of Baja California, and much of the state of Sonora, Mexico, it is home to an extraordinary variety of plants and animals. A Natural History of the Sonoran Desert takes readers deep into its vast expanse, looking closely at the relationships of plants and animals with the land and people, through time and across landscapes.

In accessible language, more than forty scientists and/or naturalists examine the region's biodiversity, geology, weather, plants, and animals (from invertebrates to fish, amphibians, reptiles, birds, and mammals), as well as potential threats to the species and habitats. The text is supplemented throughout with anecdotes, essays, photographs, maps, diagrams, and 450 finely rendered drawings.

This new edition adds chapters on the Sky Islands, Sea of Cortez, desert pollinators, and conservation issues. Taxonomic nomenclature has been updated and new color plates and figures have been added. This comprehensive natural history, like the original edition, will surely become an invaluable companion for nature enthusiasts, birdwatchers, hikers, students, naturalists, and anyone interested in the desert Southwest.

Published in association with the Arizona-Sonora Desert Museum.
 
About the Author
---
The Arizona-Sonora Desert Museum, located fourteen miles west of Tucson, is an internationally recognized leader in natural history interpretation and innovative exhibitry.
Praise For…
---
"This compendium [is] destined to become the mandatory reference for the Sonoran Desert for years to come."
— New Mexico Magazine
". . . an authoritative introduction to the Sonoran Desert. . . . remarkably thorough . . . the one book on the Sonoran Desert I'd recommend to both novice and experienced naturalists." 
— Audubon Naturalist News
"A Natural History [of the Sonoran Desert] will go with me on my next road trip west." 
— Santa Fe New Mexican
"This book is the next best thing to going there. . . . Thought the emphasis is on the well-known and often-seen organisms of the region, the depth of coverage of those organisms is remarkable for its completeness." 
— CHOICE
"A Natural History of the Sonoran Desert is a monumental work, accessible to amateurs and professionals alike; it is a must for anyone planning to visit the deserts of southwestern United States."
— Environmental Practice
"If I am exiled to a desert isle, I now have that proverbial one book to take along: A Natural History of the Sonoran Desert. . . . It's all here. It's like sitting on the patio with the best experts and having a private tutorial."
— The Journal of Arizona History
"Exquisitely produced, richly illustrated . . . definitive account of this hot desert."
— TAXON
"This book is a long, long, love letter. . . . [It] tells you just about all you can think to ask about this lush and most beautiful of America's four deserts."
— The Sonoran Quarterly
"A Natural History of the Sonoran Desert provides a collection of Sonoran Desert natural history information and is a perfect introduction to the most biologically rich desert in North America."
— AZA Communique
"It is heartening to read a no-nonsense and comprehensive description of the natural history of the Sonoran Desert. . . . There is little missing in this book and much to recommend it."
— Geotimes
"...the most complete collection of natural history available on this region."
— Wildlife Conservation
"This book provides a comprehensive introduction to the natural history of the Sonoran and Mojave deserts . . . It would be an ideal text for a community college or undergraduate course on desert ecology." 
— Madrono
"If I were forced to limit my southwestern library to one book, this would be it. In just under 600 pages, handsomely illustrated with color and black-and-white photographs, and prcise pen-and-ink drawings, 35 experts share their considerable knowledge of man and nature in the Sonoran Desert." 
— Southwest Books of the Year