The Thrifty Guide to Medieval Times: A Handbook for Time Travelers (The Thrifty Guides) (Paperback)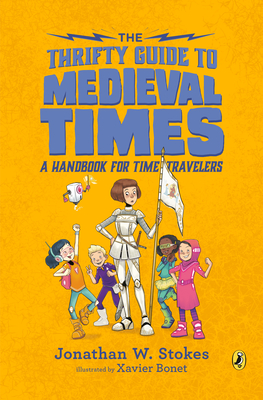 Description
---
The kid-friendly series that makes history approachable, engaging, and funny! From the publishing house that brought you the Who Was? books.

The Thrifty Guide to Medieval Times: A Handbook for Time Travelers is a snappy, informative, illustrated travel guide with everything the sensible time traveler needs to know, like:
* Where I can find the best hovel?
* What are my healthcare options if I catch the Black Plague?
* How can I avoid being attacked by pillaging Huns?
* And most importantly, why on earth would anyone want to travel back to medieval times?

This book is designed as a parody of Fodor's guides, complete with humorous maps, reviews of places to stay and top attractions (don't miss a jousting tournament . . . but watch out for lances!), and tips on whom to have lunch with (murderous Queen Olga of Kiev, naturally--just don't eat or drink anything around her!). If you had a time travel machine and could take a vacation anywhere in history, this is the only guidebook series you would need.
About the Author
---
Jonathan Stokes (www.jonathanwstokes.com) is a former teacher who is now a rising star as a Hollywood screenwriter. He has written screenplays on assignment for Warner Brothers, Universal, Fox, Paramount, New Line, and Sony/Columbia. Inspired by a childhood love of The Goonies and Ferris Bueller's Day Off, Jonathan wrote his first novel, Addison Cooke and the Treasure of the Incas, published by Philomel in 2016. Born in Manhattan, he currently resides in Los Angeles, where he can be found showing off his incredible taste in dishware and impressive 96% accuracy with high fives.

Xavier Bonet is an illustrator and comic book artist who lives in Barcelona with his wife and two children. He has illustrated a number of middle grade books including Omnia, by Laura Gallego; Michael Dahl's Really Scary Stories series; and the Keepers trilogy, by Lian Tanner. He loves all things retro, video games, and Japanese food, but above all, spending time with his family. Visit him at www.xavierbonet.net/ and follow him on Twitter or Instagram @xbonetp.