The Food Lab: Better Home Cooking Through Science (Hardcover)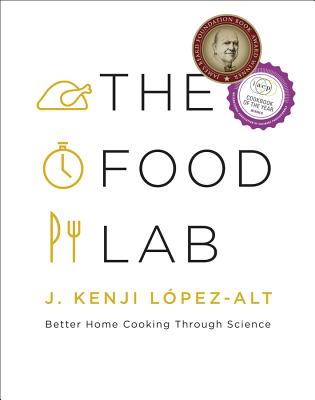 $49.95
Usually Ships in 3-6 Days
Description
---
A New York Times Bestseller

Winner of the James Beard Award for General Cooking and the IACP Cookbook of the Year Award



"The one book you must have, no matter what you're planning to cook or where your skill level falls."—New York Times Book Review
Ever wondered how to pan-fry a steak with a charred crust and an interior that's perfectly medium-rare from edge to edge when you cut into it? How to make homemade mac 'n' cheese that is as satisfyingly gooey and velvety-smooth as the blue box stuff, but far tastier? How to roast a succulent, moist turkey (forget about brining!)—and use a foolproof method that works every time?
As Serious Eats's culinary nerd-in-residence, J. Kenji López-Alt has pondered all these questions and more. In The Food Lab, Kenji focuses on the science behind beloved American dishes, delving into the interactions between heat, energy, and molecules that create great food. Kenji shows that often, conventional methods don't work that well, and home cooks can achieve far better results using new—but simple—techniques. In hundreds of easy-to-make recipes with over 1,000 full-color images, you will find out how to make foolproof Hollandaise sauce in just two minutes, how to transform one simple tomato sauce into a half dozen dishes, how to make the crispiest, creamiest potato casserole ever conceived, and much more.
About the Author
---
J. Kenji López-Alt is the Chief Culinary Advisor of Serious Eats, Chef/Partner at Wursthall, author of the James Beard Award-nominated column The Food Lab, and a columnist for the New York Times. His first book, The Food Lab: Better Home Cooking Through Science is a New York Times bestseller, winner of the James Beard Award for general cooking, and was named Book of the Year by the International Association of Culinary Professionals. He lives in San Mateo with his wife Adriana and daughter Alicia. For more information visit www.kenjilopezalt.com.
Praise For…
---
You need The Food Lab, as J. Kenji Lopez-Alt's magnum opus is 2015's most indispensable cookbook.


[The Food Lab] promises tried-and-tested accuracy, groundbreaking technique and inarguable results. All that, plus humor.


The ultimate book for science nerds who cook.

Loaded with fascinating information…López-Alt gives you enough science for the explanations to make sense, but everything is still firmly rooted in practical home cooking.
— Russ Parsons

Five years in the making, [The Food Lab is] a culmination of the wunderkind's unlikely ascent into a cultish figure—and the face of a new kind of home cooking.


An authoritative, instant-classic reference book that's also an engaging read.

The Food Lab is a keeper.

— Chris Kimball

The Food Lab is The Joy of Cooking for the modern cook, and it has something to teach even the most experienced chefs.


A beautiful behemoth. . . . The Food Lab's vision of "better home cooking through science"—and, I would add, through the internet—is a convincing one.