The SheepOver (Sweet Pea & Friends #1) (Board book)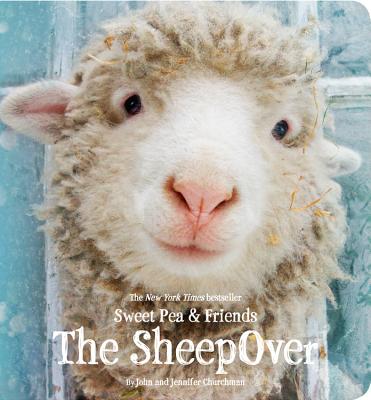 Description
---
Meet Sweet Pea, the adorable orphan lamb, and discover why her true story has enchanted readers of all ages and become an instant New York Times bestseller. Now a board book!

One cold winter night, Sweet Pea becomes very sick. Everyone at the farm is worried about her! Under the watchful care of Farmer John, Laddie the sheepdog, and Dr. Alison the veterinarian, she slowly recovers. When Sweet Pea is better again, she's ready for a fun and imaginative "SheepOver" celebration!

This charming story of caring and friendship by farm owners John and Jennifer Churchman--creators of The Sheepover, Brave Little Finn, A Farm for Maisie, Alpaca Lunch, and The Easter Surprise--is brought to life with entrancing photo-illustrations and will enchant readers and make them fall in love with Sweet Pea and her friends.
About the Author
---
John Churchman is an artist, photographer and farmer, bringing stories to life with his enchanting photo-illustrations.

Jennifer Churchman is a multimedia artist and business consultant, and has loved telling stories all her life.

John and Jennifer bring their talents together to give voice to the stories of all the animals that surround them and add boundless enjoyment to their lives. They have made their home on a small farm in the beautiful countryside of Essex, Vermont, with their daughter Gabrielle. The SheepOver is their first book. They also created Brave Little Finn, A Farm for Maisie, Alpaca Lunch, and The Easter Surprise.
Praise For…
---
Praise for The SheepOver:
"I'd never met John, or heard of his farm, but when he brought in this book for us to consider selling, it was hard not to jump over the counter and pump his hand in congratulations....This is a book that sells itself the minute you put it into a customer's hands."
—
Elizabeth Bluemle, Publishers Weekly Shelftalker blog
"The Churchmans capture something that
feels like a modern-day fairy tale
."—
Publishers Weekly
A
New York Times
bestseller!