Underwater Babies (Hardcover)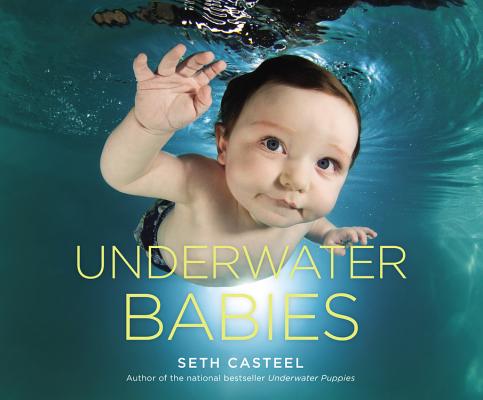 $21.00
Email or call for price
Description
---
Babies as you've never seen them before, from New York Times bestselling author and photographer Seth Casteel

Seth Casteel's innovative underwater photography has won him fans around the world. Now Casteel has turned his camera toward the only subjects who could rival his bestselling portraits of dogs and puppies for sheer adorable delight: babies. In what he has called some of the most exciting shoots of his career, Casteel has found a remarkable new way to capture the wonder and freedom babies feel when they're underwater.

Chubby-cheeked, curious, and mischievous, these tiny swimmers remind us all of the joy of discovery -- and the irresistible beauty of babies.
About the Author
---
Seth Casteel is an award-winning photographer and the author of the national bestseller Underwater Dogs, Underwater Puppies, and Underwater Babies. His photographs of babies and animals have been featured in media including the New York Times, National Geographic Magazine, Morning Edition, the Washington Post, The Today Show, and Business Insider, as well as on the front page of outlets AOL, MSN, Yahoo, and hundreds of others. He lives in California.
Praise For…
---
"It doesn't get much cuter than this."—Time

"Incredible.... [Casteel's] pictures are innovative and take on an air of excitement as the youngsters swim beneath the waves."—James Gordon, Daily Mail

"Underwater Babies photographer Seth Casteel one-ups the cuteness factor found in his previous underwater portraits of dogs and puppies."—CNN.com

"Beautiful.... Charming."—Mother Nature Network

"The photos themselves will put a smile on your face...."—Michelle Malia and Mylan Torres, Cosmopolitan

"What's amazing about the photos is that they all capture an unbelievably wide range of genuine, off-the-cuff, and hilarious expressions and poses made by babies underwater.... Wonder-filled photos."—Sherry Huang, Parents

"Magical."—Caroline Bologna, The Huffington Post

"Adorable underwater babies win at everything forever."—Maya Kachroo-Levine, Bustle

"Few people thought it was possible to see something cuter than Seth Casteel's Underwater Puppies, but the award-winning photographer has done it again with Underwater Babies."—Ebony C. Fleming, Houston Chronicle

"This fun and adorable series features exactly what the title promises--babies underwater--and a whole lot of happiness."—Distractify