The Gift of Fear: Survival Signals That Protect Us from Violence (Paperback)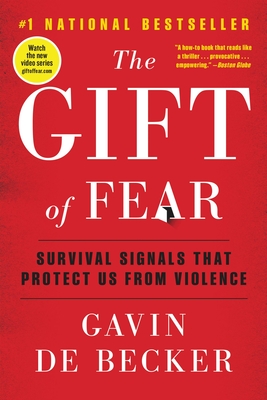 $21.99

Usually Ships in 3-6 Days
Description
---
As seen on TikTok, protect yourself by learning how to trust — and act on — your instincts with the "empowering" (Boston Globe) #1 bestselling guide to personal safety, from security expert Gavin de Becker.

A carjacker lurking in a shopping mall parking lot. An abusive husband pounding on the door. A disgruntled employee brandishing a gun. These days, no one is safe from the specter of violence. But according to Gavin de Becker, everyone can feel safer, act safer, be safer — if they learn how to listen to their own sixth sense about danger.

De Becker has made a career of protecting people and predicting violent behavior. His firm handles security for many of the leading figures in Hollywood and Silicon Valley, and his computerized risk-assessment system helps analyze threats to members of Congress and the Supreme Court. Now, in this unprecedented guide, de Becker shares his expertise with everyone. Covering all the dangerous situations people typically face — street crime, domestic abuse, violence in the workplace — de Becker provides real-life examples and offers specific advice on restraining orders, self-defense, and more. But the key to self-protection, he demonstrates, is learning how to trust our own intuitions. For everyone who's ever felt threatened, this book is essential reading.
Praise For…
---
"A how-to book that reads like a thriller...provocative...empowering."—Boston Globe

"De Becker has a lot to say about crime and the fear of crime, and he says it persuasively...His blend of empathy, reassurance, and common sense wows readers."—Newsweek

"The Gift of Fear offers the gift of survival. Read it."—Linden Gross, author of To Have or to Harm

"Superb and compelling, bringing into focus the complexity of human response to real or perceived danger. De Becker redefines the parameters of fear and challenges the basis of a fear response. This book is for everyone who has ever feared."—Ann Wolpert Burgess, Professor of Nursing, University of Pennsylvania

"This book can save your life…It should be read by everyone who wants to triumph over fear."—Scott Gordon, former Chairman of the Los Angeles County Domestic Violence Council

"The ability to protect oneself from violent behavior, largely through one's own intuition, is the central premise of de Becker's book—thus, fear is a gift. The book taps the anxieties of an era."—New York Times

"Gavin de Becker's book is the first to explain that our powers of intuition are the best protection we have against violence."—Daniel M. Petrocelli, lead counsel for plaintiffs in Fred Goldman v. O. J. Simpson

"A tour de force…Riveting, instructive, a book that dissects the phenomenon of violence, unravels its mysteries, and shows us how to prevail."—Erika Holzer, author of Eye for an Eye

"Should be required reading for women and their loved ones. It offers potentially life-saving information in a style that is compelling. It is by far the best book I have read on how to handle violence, and I recommend it to one and all."—Theresa Saldana, actress and founder of Victims for Victims

"Gavin de Becker's brilliant insights and encyclopedic familiarity with the minds of criminals have made powerful contributions to the successful prosecution of many cases, including mine, and now he shares that knowledge with his readers."—Marcia Clark, prosecutor
Sit 'n Knit