Afterimages: Photography and U.S. Foreign Policy (Hardcover)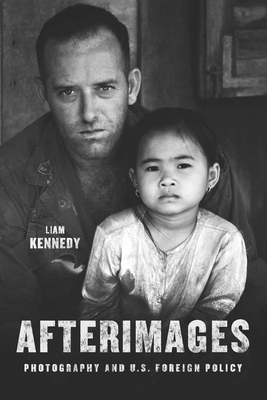 $67.20
Email or call for price
Description
---
In 2005, photographer Chris Hondros captured a striking image of a young Iraqi girl in the aftermath of the killing of her parents by American soldiers. The shot stunned the world and has since become iconic—comparable to the infamous photo by Nick Ut of a Vietnamese girl running from a napalm attack. Both images serve as microcosms for their respective conflicts. Afterimages looks at the work of war photographers like Hondros and Ut to understand how photojournalism interacts with the American worldview.

Liam Kennedy here maps the evolving relations between the American way of war and photographic coverage of it. Organized in its first section around key US military actions over the last fifty years, the book then moves on to examine how photographers engaged with these conflicts on wider ethical and political grounds, and finally on to the genre of photojournalism itself. Illustrated throughout with examples of the photographs being considered, Afterimages argues that photographs are important means for critical reflection on war, violence, and human rights. It goes on to analyze the high ethical, sociopolitical, and legalistic value we place on the still image's ability to bear witness and stimulate action.
About the Author
---
Liam Kennedy is professor of American studies and director of the Clinton Institute for American Studies at University College Dublin. He is the author or editor of several books, including The Violence of the Image: Photography and International Conflict.
Praise For…
---
"Kennedy admirably extends our appreciation for the work of photojournalists such as Philip Jones Griffiths, David Burnett, Gilles Peress, and Susan Meiselas, who document violence and its effects, brought about largely by American foreign policy, in a way that intersects the worlds of art, politics, and the news media. Highly recommended."
— Choice

"Moving from the Vietnam War to the Homeland Security State, Afterimages examines the work of renowned photojournalists and documentary photographers who have critically sought to reshape their genre. In thinking through their images, Kennedy reflects on broader issues of what the public wants to see and what it chooses not to see. He is in control of his material, moving nimbly from analyzing the composition of particular photographs to indicating their broader cultural significance. By limiting the scope of the inquiry, Kennedy suggests the larger stakes of our changing relationship to photographs as documents of war."
— Diplomatic History

"Afterimages makes a powerful argument for the role that photojournalism has played in affirming the values of liberal democracy in the face of the constant and brutal wars waged by the United States. Kennedy brings to light the strategies and experience of a range of enormously talented photojournalists in the face of danger, apathy, and censorship. Afterimages is riveting in the stories that it tells and insightful in its analysis of the changing worlds of war and photojournalism—it is smart and original, a must read for those concerned with war photography, photojournalism, and US foreign policy over the last fifty years."
— Marita Sturken, New York University

"Afterimages makes immediate and enduring contributions to scholarship on photojournalism, the representation of violence, and the role of the press in international politics. Kennedy weaves together professional, academic, and public commentary to identify a discourse on photojournalism that has been both guiding practitioners and subject to continual innovation in tandem with the changing nature of American warfare. This is a compelling book."
— Robert Hariman, Northwestern University