The Age of Dinosaurs: The Rise and Fall of the World's Most Remarkable Animals (Hardcover)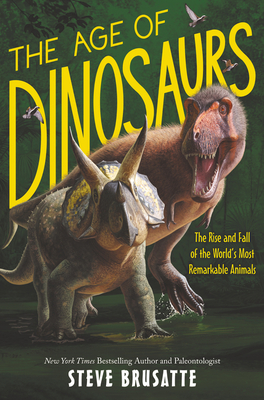 Description
---
Think you know about dinosaurs? Think again! New York Times bestselling and award-winning author Steve Brusatte brings young scientists and readers everywhere into his world of massive herbivores and fearsome predators, daily unexpected discoveries, and all the new science used to learn about some of the world's oldest beings.
Even though the dinosaurs roamed the earth millions of years ago, we're still piecing together new information about these ancient animals.
Did you know that, on average, a new species of dinosaur is discovered every single week? Or that many dinosaurs had feathers? Or that there are even modern-day dinosaurs walking around right now?
New York Times bestselling author and acclaimed paleontologist Steve Brusatte writes about all the new discoveries he and his colleagues have made that help us better understand—and marvel at—these remarkable reptiles.
This exciting nonfiction book for ages 7 to 12 includes a glossary, pronunciation guide, and index, as well as photos throughout. A strong choice for the classroom and for independent reading, and a great source for reports using information direct from an expert in the field.
About the Author
---
Steve Brusatte is a paleontologist who hunts and writes about dinosaurs. He is on the faculty of the University of Edinburgh in Scotland, but grew up in the Midwestern USA. Steve has traveled around the world digging up dinosaurs and, working with many international colleagues, has named more than 15 new species, including the tyrannosaur 'Pinocchio rex' (Qianzhousaurus) and the raptor Zhenyuanlong. He has written several books for kids and adults, most notably the adult pop science book The Rise and Fall of the Dinosaurs (2018), which was a New York Times bestseller in the USA, Sunday Times bestseller in the UK, and Globe & Mail bestseller in Canada. His work is covered often by the popular press and he has appeared on several television shows, such as the National Geographic extravaganza T. rex Autopsy, where he was part of the team that dissected a scientifically accurate life-sized model of a T. rex.
Praise For…
---
"A comprehensive look at the when, where, and why of dinosaurs. Interesting in-depth stories about ever popular dinosaurs are presented with comprehensive scientific evidence in an upbeat, kid-friendly way. Photographs and realistic drawings help bring the science to life. A treasure trove of information."
— Kirkus Reviews

"An impressively comprehensive volume... With Brusatte maintaining an excited, conversational tone that refuses to underestimate its audience, more serious dinosaur aficionados will find much to learn and love."
— Booklist

"Paleontologist Steve Brusatte offers a sparkling account of his trade and its discoveries."
— Wall Street Journal

"Brusatte hits a perfect note for young readers, infusing the text with his enthusiasm while making sophisticated vocabulary and concepts readily accessible.... Brusatte's work pops with all the excitement of a dinosaur-themed "CSI" show. Budding scientists and dinosaur enthusiasts will relish this deep dive into the detective work that comprises a fascinating field."
— School Library Journal