Light Is All Around Us (Let's-Read-and-Find-Out Science 2) (Hardcover)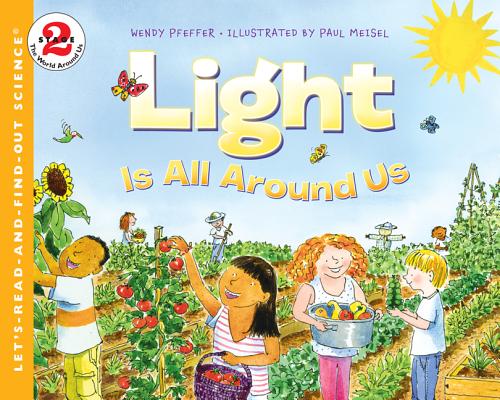 $17.99
Usually Ships in 3-6 Days
Description
---
Light is all around you! It comes in many forms: Light from the sun brightens our day, firelight flickers in the night, electric lights fill our homes—and some animals even make the sea glow! This nonfiction picture book is an excellent choice to share during homeschooling, in particular for children ages 4 to 6. It's a fun way to learn to read and as a supplement for activity books for children.
With lively illustrations and fun diagrams from Paul Meisel, Light Is All Around Us by Wendy Pfeffer is a fascinating look into the many ways that light brightens our world. This is a Stage 2 Let's-Read-and-Find-Out, which means the book explores more challenging concepts for children in the primary grades and supports the Common Core Learning Standards and Next Generation Science Standards.
Let's-Read-And-Find-Out is the winner of the American Association for the Advancement of Science/Subaru Science Books & Films Prize for Outstanding Science Series.
About the Author
---
Wendy Pfeffer enjoyed early careers as a teacher and a nursery school director. She now devotes her time to writing and conducting workshops on creative writing for both adults and children. She is the author of the Let's-Read-and-Find-Out Science book Sounds All Around as well as The Gooney War and Popcorn Park Zoo. Ms. Pfeffer lives in Pennington, New Jersey.
Paul Meisel has illustrated many books for children, including Why Are the Ice Caps Melting?, Energy Makes Things Happen, and What Happens to Our Trash? in the Let's-Read-and-Find-Out Science series. He lives in Newtown, Connecticut.
Praise For…
---
"Meisel's amiable ink drawings, brightened with colorful washes, help make the concepts accessible to a young audience... An attractive addition to the dependable Let's-Read-and-Find-Out Science series."
— Booklist